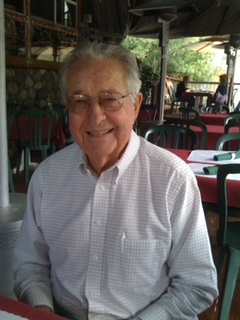 Donald Clarke Knudson (Don) was born January 19, 1925, in Newman Grove, Nebraska to Agda (Nelson) and Henry Knudson, and passed away at the age of 96 in Visalia, CA September 8, 2021.
Don was a WWII Veteran, joining the Army at 18 in March of 1943 and became a flight mechanic and gunner. He flew 13 missions out of Lyon, France with the 34th Bombardment Squadron before the war ended.
He married Nancy Jane Corwin December 26, 1952 and was married for 56 years until she passed on
December 2, 2009.
After Graduating from the University of Nebraska, Don moved to Exeter, CA in 1953 to teach at EUHS for 29 years. He taught 22 years of auto and metal shop and served 7 years as the Work Experience Coordinator. He retired in 1982 and farmed his land outside Exeter, CA, growing delicious grapefruit and avocados. He was a member of the Exeter Kiwanis club, and also active in the Presbyterian Church of Exeter.
On May 3, 2015, Don married Jane Hornung.
He was preceded in death by his parents, his 5 siblings, and Nancy Knudson his wife of 56 years. He leaves 2 children, Craig Knudson (Lynn) and Karen Knudson (Teresa Tachovsky) and his wife of 6 years, Jane Hornung.
Donations may be made to FoodLink Tulare County. P.O. Box 391, Exeter, CA
A Memorial Graveside service will be held on Wednesday, September 15, 2021, 10:00 A.M. at Hamilton Cemetery, Ave. 310, Exeter, California.
Arrangements by Smith Family Chapel, Exeter. Condolences: smithfamilychapel.com